The Computing Technology Industry Association (CompTIA) is expected to release their fourth Annual Cloud Computing Trends research study this week.  This cloud computing research is based on a survey of over 500 IT and Business Professionals collected in June 2013.
The Fourth Annual CompTIA Cloud Computing Trends report is expected to reveal cloud computing trends and  buying patterns, benefits and challenges related to cloud computing use by businesses.  In addition, over 400 IT firms were surveyed on how the cloud is changing the IT technology channel.  Here are some anticipated highlights of cloud computing trends:
Cloud Computing Trends:  Cloud is an Increasing Component of IT Architecture
According to the research, 90% of companies are using cloud computing architecture in their business.  The research indicates "as cloud components are becoming more prevalent in IT architectures, more companies are relying on cloud computing for business processes such as storage (59%), business continuity/disaster recovery (48%), and security (44%).  This strong usage and strong market indicators show that cloud computing is becoming a default part of the IT landscape."
Top Benefits of Cloud Computing
As Cloud Computing becomes more mainstream a range of business benefits are reported.  While no single reason stands out, businesses report a broad range of benefits by adopting cloud computing technologies: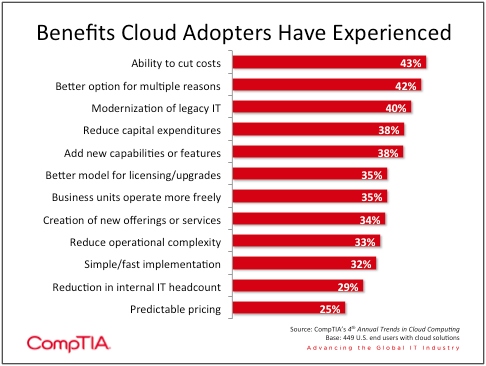 Cloud Computing Reaches Maturity
The research indicates that more than half of  those delivering, managing, integrating and supporting cloud computing solutions feel their cloud computing businesses are mature and strategic.

Integration Remains the Top Cloud Computing Challenge
According to the cloud computing study by CompTIA, integration remains at the top of the list for all companies.  Integration of Software as a Service (SaaS) applications with legacy systems using Application Program Interfaces  (APIs) was reported as a challenge almost half the time.  Additionally, changes to IT Policy (40%) and the learning curve for the cloud model (39%) are also reported as challenges of moving IT systems to Cloud Computing.
This research report indicates as more companies rely on cloud computing models, the better equipped channel partners are becoming to support the many challenges related to implementing cloud computing.  Insights suggest partnering with a company with mature cloud expertise will help avoid many of the challenges of moving to the cloud, while maximizing a company's ability to reap the benefits of cloud computing.